The microcement scene in Scotland is growing in popularity daily, particularly in the nation's biggest cities, Edinburgh and Glasgow. The clean lines and modern aesthetics of microcement are revolutionising domestic and residential design in Scotland.
Scotland is renowned for its traditional gothic architecture, but microcement has given the nation a contemporary kiss of life to create a stunning coexistence of modern and classical design.
Microcement in Edinburgh
When many people think of Edinburgh, they picture cobblestone streets and the famous castle on the top of its hill. But, as Scotland's trendiest city, Edinburgh is no stranger to contemporary design and technology.
And microcement is leading the way in rediscovering Edinburgh's interior and exterior designs. An ensemble of residential and domestic microcement installations have appeared throughout the capital city, highlighting the charming possibilities of decorative surface coatings.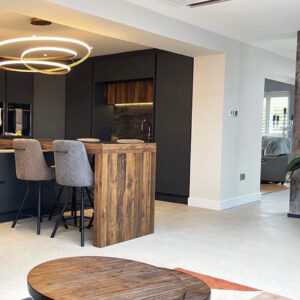 Many consider Glasgow to be the cutting-edge cousin to Edinburgh, but it has adopted the microcement revolution in the same spirit. And you can find impressive examples of microcement across the city.
Microcement bathrooms in Scotland
The waterproof qualities of Forcrete microcement excel within the bathroom and wet room settings. Our microcement is 100% waterproof – even before applying sealers, making it the perfect surface coating for your Scottish bathroom or wet room.
Check out one of the microcement bathroom installations our experts have produced below.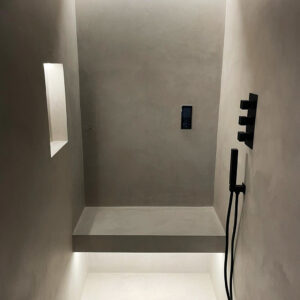 The unbroken application of microcement means you won't get any joins or grout lines in your bathroom or wet room area – making your surfaces easy to clean and hygienic in your home.
How much does a microcement bathroom in Scotland cost?
The price of your microcement bathroom project will depend on the size of the area you would like to be covered. We work with over 50 microcement installers across the UK and Europe – including seven in Scotland, who can provide you with a no-obligation quote for your installation.
We trust every one of the Forcrete-approved experts who protect the name and reputation of our products and systems. Click here to find a Forcrete-approved installer for your next microcement project.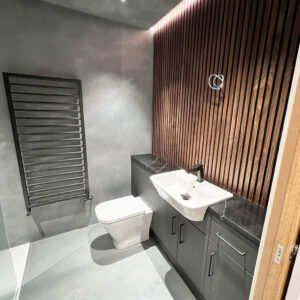 How long does it take to install a microcement bathroom in Scotland?
The time it takes to complete a microcement bathroom installation varies significantly due to the size of the project. However, the complexities involved with bathroom applications mean you can expect your new bathroom or wet room to be unavailable for at least a week while your new design dries.
Why choose Forcrete microcement?
Our market-leading epoxy resin hybrid technology offers unrivalled levels of strength and reassurance for installers, architects, designers and end users – while remaining solvent-free and producing low levels of VOC. Forcrete removes the widespread industry reliance on thin, solvent-based lacquers.
Forcrete.